GP workforce remains below 2015 levels, says BMA
26 May 17
Total numbers of GPs working in England remain below 2015 levels, GP leaders warned, as official data suggested a rise in headcount and full-time equivalent (FTE) GPs over the last quarter of 2016/17.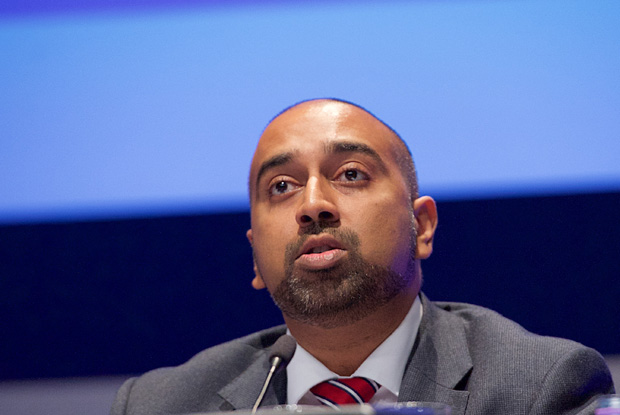 GPC education workforce and training committee chair Dr Krishna Kasaraneni (Photo: JH Lancy)
GP leaders said the figures showed that the NHS remained a long way short of meeting the government's pledge to train and retain an extra 5,000 GPs by 2020/21 - a pledge the Conservatives re-committed to following the publication of the party's manifesto last week.
NHS Digital, which publishes data on the GP workforce, warned that comparisons between the latest data - for 31 March 2017 - and figures for 31 December 2016 published earlier this year should be 'treated with caution'. This is the first year in which the data organisation has published quarterly GP figures, and it warned the impact of seasonal changes in workforce data was unknown.
At face value, the data suggest that the workforce has recovered from a significant fall in GP numbers revealed in the December data - which saw the number of GPs in England fall from 41,865 in September 2016 to 41,475 in December, a drop of 390 - or 0.9%.
Figures for 31 March 2017 show 42,250 headcount GPs. The total number of FTE GPs is 34,372 - up from 34,050 in December 2016, but down from the September 2016 figure of 34,495.
GP workforce
GPC education, training and workforce lead Dr Krishna Kasaraneni said: 'These figures demonstrate the failure of politicians to uphold their pledges to deliver the GPs necessary to provide the number of appointments and sustainable service that patients deserve.
'The overall number of GPs working in England has dropped since 2015, which leaves the NHS a considerable distance short of the current targets for the GP workforce. There is little prospect of the promised 5,000 additional GPs materialising anytime soon.
'This continued workforce crisis has left many GP practices unable to properly staff their surgeries at a time when local services are struggling to cope with rising patient demand and flat lining budgets. A recent BMA survey showed that a third of GP practices had vacancies left unfilled for a year.
'The next government must ensure that we have a properly staffed service that can meet the needs of patients.'
GP workload
RCGP chair Professor Helen Stokes-Lampard said: 'It's frustrating that we can't make a direct comparison between these figures, and those from the same time last year, given changes in the way the data has been collected – very soon this is going to be necessary in order to fairly evaluate the progress of NHS England's GP Forward View, and the promise that was made to us for 5,000 more FTE GPs by 2020.
'Of course any rise in GP numbers is encouraging, and we are seeing a small rise since the last figures in December – but we are still way off the GP Forward View target.
'Workload in general practice is soaring – 16% over the last seven years according to the latest research - yet our workforce has not risen in step, and is now actually reducing. This isn't acceptable.'
Find the original post here at GPOnline