More than half of GPs working beyond safe limits
08 June 17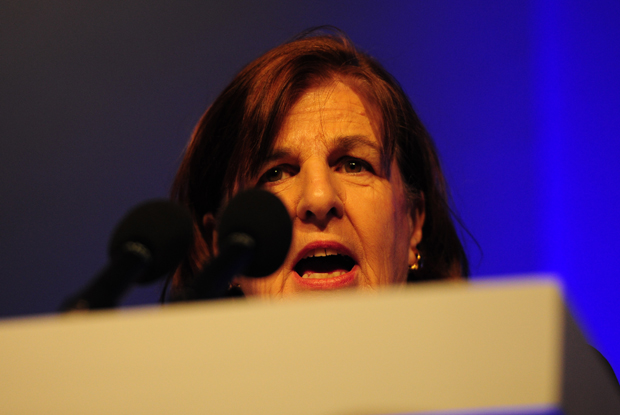 Dr Mary McCarthy: (Photo: JH Lancy)
A GPonline survey of more than 500 GPs has revealed that 51% believe the number of patient consultations they provide each day is in excess of what they consider to be safe. More than 80% of GPs said the GPC should negotiate a maximum safe limit to the number of patient contacts they can undertake per day.
LMC representatives voted at their annual conference last month for GP leaders to negotiate a maximum safe limit on daily contacts with patients. Proposing the motion, GPC member Dr Mary McCarthy said GPs were seeing more patients than ever.
She told the conference that GPs in the UK had more daily patients contacts than any other country in Europe other than Turkey, where the health service is dealing with 6m refugees from Syria.
Safe GP workload
GPs in other European countries had fewer than 25 contacts a day compared with 40 to 50 a day in the UK, said Dr McCarthy. GPonline reported earlier this year that GPs in England provide around 1m appointments per week over the level the BMA considers safe.
'We need to give ourselves some sort of guideline as to the workload we undertake,' she said. 'Routinely seeing more than 25 patients a day may not be safe for patients or their doctors.'
Other LMC representatives opposed the limit and warned there was little evidence base for determining how to quantify a safe workload.
The special LMCs conference in January 2016 voted for the GPC to negotiate restrictions on the number of patient contacts allowed each day per GP to 'a level comparable to other EU countries'.
The BMA's annual conference later this month will debate a call for a GP 'black alert' system to be set up, with or without government recognition, for practices to indicate maximum safe capacity has been reached.
GP alerts
GPC's Urgent Prescription for general practice calls for 'a national standard for a maximum number of patients that GPs, nurses and other primary care professionals can reasonably deal with within a working day.'
Research cited previously by the RCGP suggests more than half of GPs carry out 40-60 consultations per day.
BMA guidance on safe working published in 2016 makes the case that 115 appointments per week should be seen as the 'quantified commissioned activity of an NHS GP'.
Responding to the GPonline survey a Devon GP said: 'I often work flat out for 11 hours, making a complex clinical decision every 1-2 minutes.'
A Bristol GP said: 'The main problem is the intensity of sessions not necessarily patient numbers. Because of six-week wait for routine appointments patients demand multiple problems within appointment which simply cannot be achieved safely.'
A Kent GP added: 'Having to see almost 40 patients face-to-face plus half of dozen of phone calls plus all the admin work on a daily basis, I thinks that is a maximum overstretch with safe consequences. I have no time to think and most of the time I can only react. My job is to think and I am not allowed to do so.'
Another Bristol GP said safe working limits should be for practices to decide, not regulation, but added: 'Problem is that senior partners are not always good managers of people. Practices need to be flexible and pay scale adjusted accordingly.'
A GP in Edinburgh said safe contact numbers depended on the types of cases. 'Depends on quality as well as quantity - 20 snotty kids are easier than two suicidal patients back to back.'
A Greater Manchester GP supported a limit, but added: 'Who is going to see all the other patients [and] meet the rest of the demand?'
Original story publish on GP Online - &th June 2017